Paws of Enchantment ...a holistic pet spa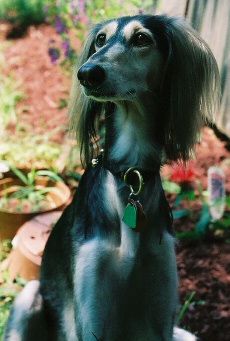 Welcome!
Welcome to Paws of Enchantment, DC, located in the Gateway Arts District in historic Mount Rainier, MD... just a few steps over the DC border. Originally located in Takoma Park, MD, PAWS has been in the current location since March 20, 2007-- the first day of spring!-- and loves the peaceful environment of this space. Our clients are coming back with lots of positive feedback as well... and the dogs really like the music, the French doors and home-like furnishings. High ceilings, lots of natural lighting, flowers and walls painted in hues selected to have a naturally calming effect on a dogs' nervous system are a few features that contribute to the ambience of our Spa.


About Cassandra
Cassandra has been grooming dogs since the age of twelve, when she acquired her first dog, a field-bred Cocker Spaniel by the name of Sam. Within a year, she was grooming neighborhood dogs, the mostly fondly noted being a Bichon-Poodle mix owned by a woman known to the neighborhood as ''Grandma'', and ''Peabody'', an Aussie-mix which ended up coming to live with Cassandra and her family.

Through high school and her BA, Cassandra went on to work for a Standard Poodle show/breeding kennel (Kan-Deau Poodles), as well as a couple of grooming salons. While completing her MA at the University of Connecticut, she operated a small grooming business. Cassandra went on to become a teacher at language and international schools in Athens, Greece, and Cairo, Egypt... but always maintained grooming jobs as well as her love for dogs and making them look and feel good always persisted.

In 1997, circumstance brought Cassandra to Washington, DC, where she met some lovely industry people, including late friend, Stanley Tyree. Stanley will always be remembered for his adeptness with handstripping terriers and specialty in grooming Soft-Coated Wheaten Terriers. It is in his memory that Cassandra has taken these specialties on as her own, in light of the belief that as she feels it would have made Stanley happy, and serves as a living memorial to him. She does imagine hearing his voice (usually giving nit-picky advice!) when working with these breeds.

Cassandra has been grooming in the DC area since 1997, having started in Tenleytown/Wisconsin Avenue area, then moving to Dupont Cirle, and finally forming Paws of Enchantment in November of 2005. ''Paws'' was originally located in Takoma Park's acclaimed holistic pet supply, The Big Bad Woof.

Cassandra's belief in a holistic lifestyle for dogs and people extends far beyond just 'grooming'. She is currently a student of animal communication, having completed two levels of training, and has also received training in flower essence therapy and Healing Touch for Animals. She hopes to deepen these practices and for Paws to eventually evolve into a holistic center in the countryside where there would also be holistic boarding and care.

Cassandra shares her home with a 'pack' of beloved Salukis, which she considers to be some of her greatest teachers. The Salukis can often be seen in the window of their ''office'' at Paws of Enchantment.


Our Philosophy

Welcome to Paws of Enchantment, DC, a holistic pet grooming spa dedicated to the special needs of your pet. Our philosophy is that your pet is an individual... like you. While we aim to provide top quality grooming and styling services, we also look at the whole dog-- beyond the hair– and stress the importance of building a relationship with your pet in safe and comfortable an environment.

We use aromatherapy in the grooming area, and, with your consent, may occasionally use flower essences (100% safe and natural– not a medicine or tranquilizer) to help allay your pet's qualms or anxieties about the grooming process. Our natural shampoos are aromatic and hypo-allergenic, unless otherwise specified or required by your veterinarian. We do not use any chemical flea treatments. We use gentle, basic massage techniques while administering our warm baths.

For each new pet signing up for a holistic grooming session, we require a brief interview in which we will gather pertinent information about your pet's diet, behavior/temperament, medical issues or concerns, and so on. This enables us to create a whole "picture"of your pet and enables us to better understand any skin/coat, health or behavioral issues that might require a consultation with your veterinarian, a nutritional counselor, or behaviorist. We emphasize the importance of your providing us a contact number where you can be reached if we have any questions about your pet during his or her grooming. Finally, we encourage your feedback, so that we can serve both you and your four-leggeds to the highest possible standard.


Grooming Services


Regarding our grooming services, we strive for a look that is both natural and elegant. We prefer to keep dogs looking as close as possible to breed standard, and offer services such as handstripping, carding and coat restoration (restoring a coat whose color and texture has been damaged due to close clipping or shaving), in addition to hand scissoring. We offer a variety of deep moisturizing conditioners, hot oil treatments, and even a green clay "mask" for the truly "spa-esque" pet. For those wishing a customized look for their pet, we will do the best to work to your specifications, however please understand that our best work comes "from the heart" when styling your pet.


Our Products


Paws of Enchantment only uses the finest-quality products on our clients. Many of the shampoos are coconut-based and soap-free, to accomodate even the most sensitive and allergy-prone pets. A very popular shampoo selection is a lavender and chamomile blend by Espree; this gentle shampoo naturally calms pets with its lavender fragrance and has a soothing effect on the skin as well. Because the lavender in this shampoo is therapeutic in nature (and calming the skin and the dog), it does not leave a strong lasting scent on the dog. We also use Espree's pomegranate-based shampoo, aloe-oatmeal shampoo, berry-based shampoo, and others. For more information, please visit Espree's site at Espree Animal Products

For dogs wishing to have an added touch of glamour and bounce, there is the Les Poochs line of shampoos and conditioners. Formulated in Paris, these Panthenol and Vitamin-B enriched shampoos provide a rich, spa experience for the dog... and the scents of these products are truly divine. Cassandra's personal favorites are the La Pooch Vitamin-Enriched shampoo and the Le Pooch II Vitamin-Enriched shampoo-- the latter of which makes the whole room smell ''like a good-looking man''. To read more about Les Poochs exclusive line of shampoos and products, please visit their website at Les Poochs

For dogs with skin conditions, we have a variety of choices, the most popular being the Pooch Botanique Medicated shampoo, also by Les Poochs. This is the shampoo that we use on our hand-stripped dogs as well, to protect the open pores (that result from the stripping process) from bacterial infection. This shampoo line, and particularly this shampoo, comes highly recommended by industry expert Sarah Hawkes, one of the top terrier groomers in the world, and we have been very happy with the results.

Another popular option for pets with skin problems, or pets who would just love that extra bit of pampering, is the Divazi Dead Sea Mud Treatment. This mineral-enriched mud-mask, derived from the world's most therapeutic source of mud and salts, helps to reduce flaking and shedding. The inclusion of Eucalyptus oil in the blend also helps to naturally repel fleas and ticks. More can be learned about the Divazi products at Divazi Spa Products

These are just a sampling of our products... we also have a brand-new Spa line available for you to try, which includes bubble baths and dog ''facial'' treatments... please watch for updates and specials!


Owner Participation

We encourage owner participation as part of the "whole" grooming process. Just ten minutes a day will not only help keep your pet's coat in optimal condition, but also serve as a wonderful bonding activity and enable you to detect health issues and presence of parasites before they become a problem. We will be happy to guide you as to brush and comb selection for your particular breed of dog and help you to get on a grooming schedule and maintence plan that keep your pet's coat in great shape, which will benefit you both.


Policies

At Paws of Enchantment safety is first... your pet's and ours. We reserve the right to refuse service to any pet who shows signs of being unsafe to handle. We are authorized to handle only domestic pets, and are currently only seeing dogs. Due to insurance and safety concerns, we cannot accept breeds with strong tendencies toward aggression. Proof of a current Rabies vaccine is required, as well as other relevant vaccination and medical details. We do accept (and encourage) titering.


Final Note

Paws of Enchantment has evolved after over twenty years in the pet grooming industry combined with a lifelong passion for dogs, balance, and natural healing and communication techniques for animals. We work closely with a number of pet professionals in the holistic pet sphere-- including trainiers, pet supplies and nutritional consultants, and will be adding their links to our site soon. and look forward to working closely with them on recommendations for your pet's health and lifestyle. Paws of Enchantment welcomes you and looks forward to growing with you!