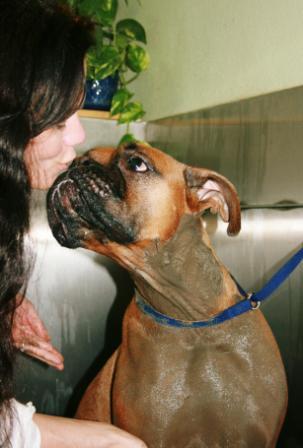 EXPANDED! Dead Sea Mud Treatments, Soaks and Masques
Excellent for dogs with skin allergies and pet owners with allergies to pet dander. Mineral- rich Dead Sea mud, blended with premium quality geranium oil, known for its anti-parasitic properties, is massaged into your dog's skin and coat for up to twenty minutes, cleaning and exfoliating the skin, removing dead hair, and providing general good feeling and vigor to your dog (the dogs DO love this!-- after all, it is an opportunity to get in the mud!)

There are a variety of Mud options:

Dead Sea Mud Shampoo: add $5 (small dog), $8 (medium dog)or $10 (large dog)
Dead Sea Mud Masque: add $5 (small), $8 (medium)or $10
Dead Sea Mud Treatment: $20 (small), $25 (medium), $30 (large)

Dead Sea Mud Package: Total mud immersion for your pet. Best for pets with itchy or irritated skin, or simply for the pet you would love to pamper! Includes Mud Shampoo, Masque, and Mud Massage treatment. Add $25 (small dog), $35 (medium), $40 (large)

Our most popular spa service.