Online Store
About Paws of Enchantment
Aromatherapy
Carding De-shedding
Dog Grooming
Grooming Services Overview
Hand Stripping
Luxury Shampoos
Our Pet Grooming Products
Our Philosophy
Our Policies
Owner Participation
Paw Massage - Foot Soaks
Pet Facial Treatments
Pet Grooming Services
Premium Holistic Packages
REIKI - Energy Healing
Restoration of Coat
Pet Grooming Services
11 to 12 of 12 Pet Grooming Services Items
Page 2 of 2
---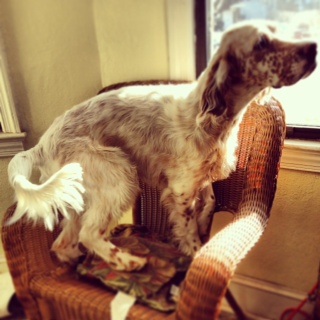 Restoration of coat
This program is designed for certain dogs (primarily hard-coated terriers, but can be applied to spaniels, double-coated, and other breeds as well) whose coat color and/or texture has been altered due to having been clipped with a short blade, or whose coat has become profuse or wooly due to the hormone changes brought on by spaying/neutering. Coat restoration especially applies to wire-coated breeds that would normally be hand-stripped (or partially stripped).

When restoring a coat, we carefully card undercoat and bathe your dog before clipping (IF clipping is desired). The coat is then either neatened, trimmed or clipped with a blade that is long enough not to cut into the remaining undercoat. Please note that clipping directly into the undercoat disturbs the coat's natural growth, causing a soft, often more profuse coat to grow in. (For those who opt to shave their Goldens or double-coated breeds in the summer, this often means a coat which will, ultimately, shed more).

Expected results: restored brightness of coat color and improvement in (breed/coat-type appropriate) texture

Results can vary depending on a number of factors: the degree of prior coat damage; color and natural texture of the dog's coat; and health problems that may affect the coat (ie, Hypothyroidism, certain allergies and skin conditions, Cushing's Disease, and so on). A coat that continues to remain sparse and dry or exceedingly profuse and soft may indicate an underlying medical condition requiring a visit to your veterinarian.

Increased benefits: your dog looks great between groomings, sheds less, and "mats" less.

Requires frequent (four-six week), successive appointments and greatly benefits from home-care.

---
Premium Holistic Packages
Premium Holistic Grooming services are highly recommended for all pets but especially for senior pets, nervous pets and pet experiencing non-contagious health challenges. Paws of Enchantment reserves the right to exclusively recommend these services to senior and other pets who require extra care while in our care.

Your pet will arrive and be treated to a full Reiki session (up to thirty minutes as guided by the animal) that may involve crystal or other energy healing, or an essential oil treatment called 'Raindrop Technique': an immune boosting combination of specific essential oil applications and light massage techniques.

Reiki/Essential oil treatments are available at an additional:
$60: Reiki: half hour/maintenance
$75 Raindrop aromatherapy treatment

Grooming will take place either before or after the energy session, as dictated by the needs of the pet. Reiki will be offered on a continual flow basis as described in my recent article, Reiki at the Dog Spa



We may make recommendations concerning further wellness support plans.

For clients whose animals are in hospice situations, or are delicate and cannot leave the home, or are experiencing an emergency, we can arrange house calls or distance Reiki appointments.
---
Online Store
About Paws of Enchantment
Aromatherapy
Carding De-shedding
Dog Grooming
Grooming Services Overview
Hand Stripping
Luxury Shampoos
Our Pet Grooming Products
Our Philosophy
Our Policies
Owner Participation
Paw Massage - Foot Soaks
Pet Facial Treatments
Pet Grooming Services
Premium Holistic Packages
REIKI - Energy Healing
Restoration of Coat