Online Store
About Paws of Enchantment
Aromatherapy
Dog Grooming
Grooming Services Overview
Hand Stripping
Luxury Shampoos
Our Pet Grooming Products
Our Philosophy
Our Policies
Owner Participation
Paw Massage - Foot Soaks
Pet Facial Treatments
Pet Grooming Services
Premium Holistic Packages
REIKI - Energy Healing
Restoration of Coat
Enchanted Pets
51 to 60 of 66 Enchanted Pets Items
Page 6 of 7
---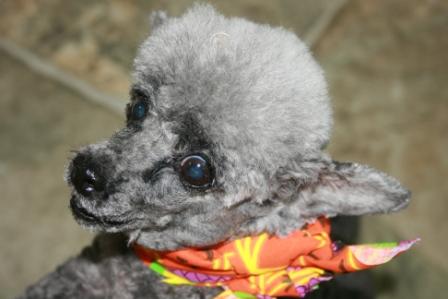 Poco the Tiny Poodle
Poco is the Tiny One who comes to see us, most often with his entourage: Zoey, his ''sister'', and Pierre and Diva, his friends. Poco has won prizes in the Pride of Pets pet contest, and loves to dress up and go out on the town.

Adorable fellow, no? Tiny fellow, big heart!
---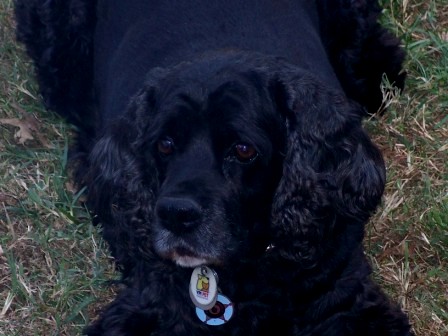 Roscoe
Roscoe the Cocker Spaniel
---
Sammy the Bichon
---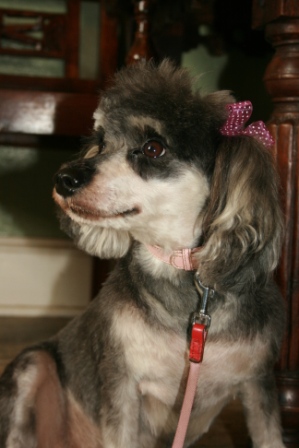 Sasha the little girl
How many of you folks out there with female Schnauzers get that, ''Oh, he is so handsome!'' comment, with people thinking your girl dog is a boy because of the eyebrows and beard. Well, fear no more: Schnauzers can look 'girly' as proven by Sasha the Schnauzer who poses for us with her bows, long ears, and coquettish eyelashes. For your 'girl Schnauzer', try the ''Sasha'' look today!
---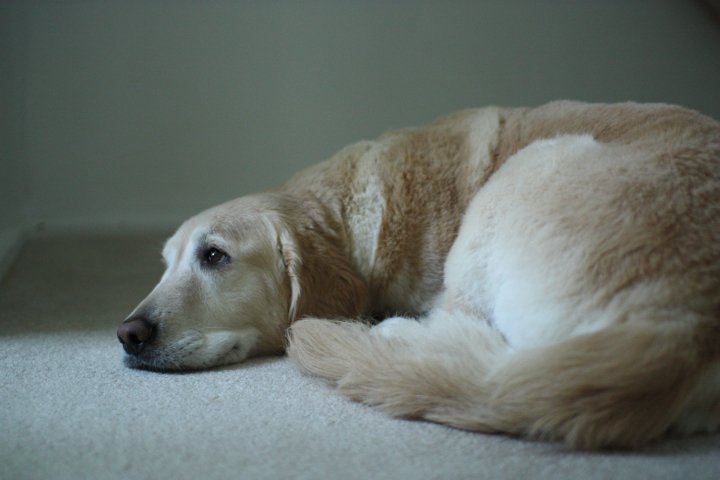 Scooby the English Golden
Scooby the Golden sporting her summer ''lab-cut''. Scooby is extremely fortunate in that her owner, James, is so devoted to her that he acquired an RV, just so that Scooby would never have to be left behind on vacation adventures! Scooby is well loved by all!
---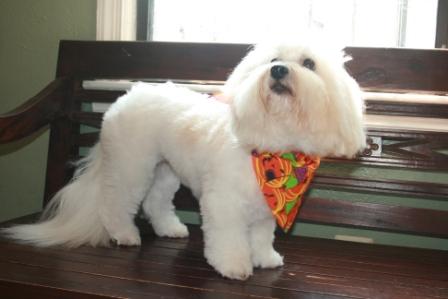 Simone the Coton de Tulear
Simone, aka ''Sammy'' is a Coton de Tulear of exceptional apppeal. Soft and good-natured, it is always a pleasure to have Simone spend the day with us!
---
Sparky the Yorkie
Sparky the Yorkie is no ''pocket-toy''-- he is a fit and firm athlete! He enjoys miles of forestland walking with his attentive human companion and all of the fresh air and exercise gives him a definate 'glow'.
---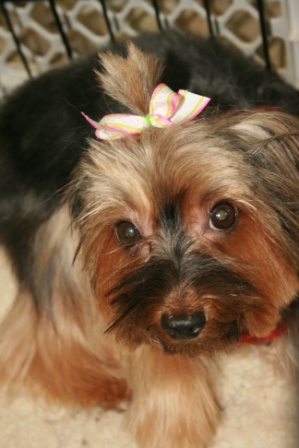 Spicey the Yorkie
For all of those who have been loving and requesting the ''Spicey Cut'' for their Yorkies, here she is: the one, the only, the famous...Spicey McCray! The originator of the ''Spicey Cut''.
---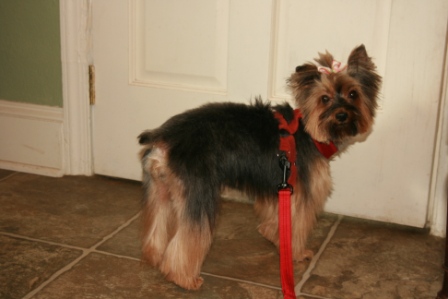 Spicey the Yorkie 2
A full-body shot of the ''Spicey Cut'' as modeled by the one and only, the original...Spicey!
---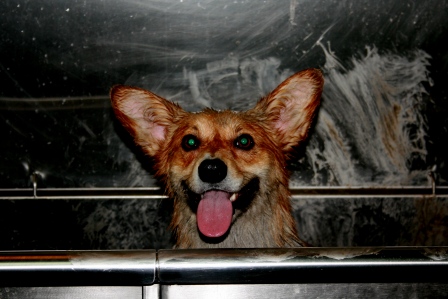 Stretch, a Pembroke Welsh Corgi owned by Angela Hicks, is a multi-talented fellow who has his own drivers license, a resume (yes, folks!) and performs in canine freestyling events with his proud owner, Angie Hicks. Stretch has also recently been certified to participate in the READ program and goes to children's libraries where the children read books to him-- a therapeutic process which helps shy children build confidence.

While not out dancing or visiting children, Stretch like to come to Paws of Enchantment and receive his favorite mud bath treatment.

Stretch is a real favorite here and we always love to share a smile with him! (yes, Stretch does smile!)

To view Stretch's 'you-Tube' link of his first dance performance (mom Angie notes that he has advanced since this performance and to stay tuned for updates), click on the link below:
---
Online Store
About Paws of Enchantment
Aromatherapy
Dog Grooming
Grooming Services Overview
Hand Stripping
Luxury Shampoos
Our Pet Grooming Products
Our Philosophy
Our Policies
Owner Participation
Paw Massage - Foot Soaks
Pet Facial Treatments
Pet Grooming Services
Premium Holistic Packages
REIKI - Energy Healing
Restoration of Coat