Online Store
About Paws of Enchantment
Aromatherapy
Dog Grooming
Grooming Services Overview
Hand Stripping
Luxury Shampoos
Our Pet Grooming Products
Our Philosophy
Our Policies
Owner Participation
Paw Massage - Foot Soaks
Pet Facial Treatments
Pet Grooming Services
Premium Holistic Packages
REIKI - Energy Healing
Restoration of Coat
Salukis
11 to 18 of 18 Salukis Items
Page 2 of 2
---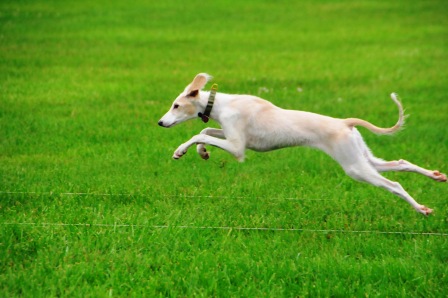 Samarah lure coursing
El Riyah Rami Samarah, ''Samarah'' enjoys lure coursing at the Saluki Club of America's National Specialty this past June. Samarah ran with unparalleled intensity and placed second in the 3-6 month old Puppy Fun Run. Mostly, she had a lot of fun!

Samarah is the newest greeter at ''Paws'', and the beloved companion of Raja. Her favorite pasttimes include removing the squeakers and stuffing from toys, chasing birds and butterflies, digging up my trees, and making an assortment of interesting vocalizations.
---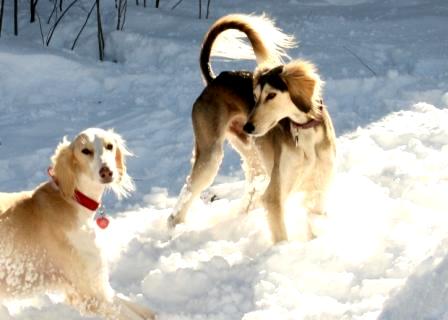 Samarah and Raja in the snow
Samarah (El Riyah Rami Samarah) and Raja (Feliice Holiday Hopes) pose in the aftermath of the February, 2010 blizzard
---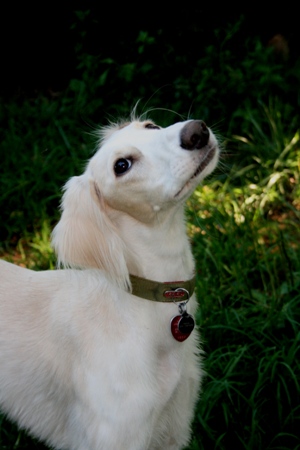 Samarah, 6 months
Samarah with her ''cute eye'', at about six months of age.
---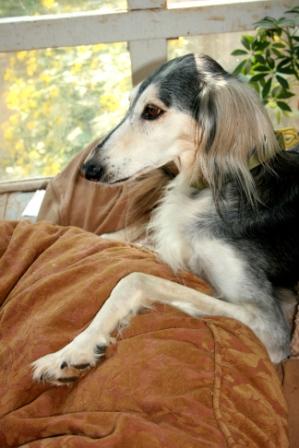 Sultana Ma'rou
Sultana is the Queen of the house... fierce protector, always ready to swiftly deliver justice and maintain balance in the household. She is our respected Alpha Queen whose combination of loyalty, dignity and intelligence remains unparalleled. She is the teacher of the other members of the house, and her number one student is Raja, whom she has trained in many activities such as guarding the house and acting as my alarm clock (a job which once was hers, but now she likes to sleep in).

She can also be sweet and affectionate, but also in a way that demands respect.

I suspect that Sultana is the reincarnation of a great ruler in history...or at least a strong head of household.
---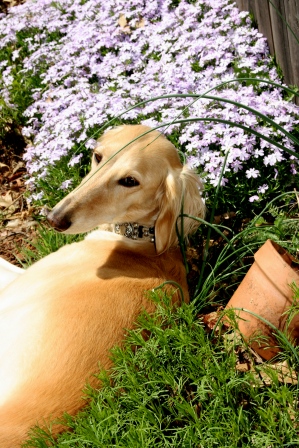 Talia
Beloved ''supermodel'' sunning herself in the garden.
---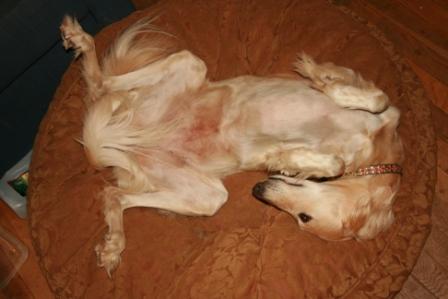 Talia the Princess
Talia if the Princess of the house...not only the 'supermodel' and the 'baby', but also an exquisitely sensitive being capable of delivering spiritual wisdom in ways I am still yet discovering. She is truly enchantment.
---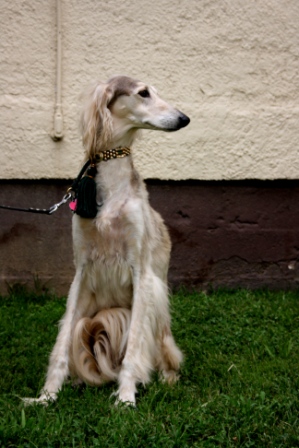 Tammuz
Tammuz, the Dog of Love; devoted, loyal and loving in his essence; a gentle guardian, a poet, a friend.
---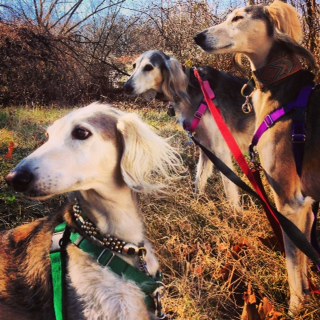 Three Grizzles
Tammuz, Sultana and Raja...three grizzle friends on an late afternoon jaunt.
---
Online Store
About Paws of Enchantment
Aromatherapy
Dog Grooming
Grooming Services Overview
Hand Stripping
Luxury Shampoos
Our Pet Grooming Products
Our Philosophy
Our Policies
Owner Participation
Paw Massage - Foot Soaks
Pet Facial Treatments
Pet Grooming Services
Premium Holistic Packages
REIKI - Energy Healing
Restoration of Coat